Burch Implements Planter - 102 SERIES EDGE AND GRAVITY DROP PLANTER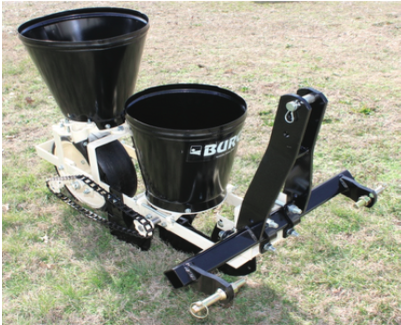 102 SERIES EDGE AND GRAVITY DROP PLANTER
Gravity Drop:
The answer for an entirely different planting method. Designed for planting okra, corn, peas, beans, watermelon, cucumber, squash, pumpkin, peanuts and other fragile seeds.
Edge Drop:
Ideal for corn, soybeans, milo, and many other seeds. Plates are available for all types of seed.
For best results, leading agricultual colleges and agronomists are now recommending that fertilizer be applied to the SIDE and BELOW the seed rather than being applied near the seed or with the seed. The BURCH Side Dress Fertilizer attachment was designed to put a band of fertilizer on one or both sides of the seed and is adjustable for depth and width.
Burch Planters:
Each unit is designed to operate independently and is the most versatile planter available. Burch planters have the ability to handle seed gently and percisely without breaking or crushing. Each planter can be acquired in single or multiple rows.
Adapt the planter to your soil conditions and planting requirements with our wide range of avaiable attachments and planting aids.
For over 70 years the Burch planters have been sold thru out the world and have proven to be reliable, accurate and easy to maintain. The 108 series is no exception as it provides the quality, strength and versatlity you can expect from the BURCH LINE.
P.O. Box 14003 Evansville, IN 47728 Phone 1-812-425-5707